Automaattinen henkilötietojen säilytysperusteiden tallentaminen
Voit kirjata Adensy CRM - palveluumme tietojen säilytysperusteet, joiden avulla palvelumme pitää kirjaa milloin peruste tietojen säilytykselle on päättymässä.
Vanhentuneiden henkilötietojen havaitseminen
Palvelu hälyttää kun henkilötietojen säilytysperuste on päättynyt ja näyttää kyseiset henkilöt.
Voit tämän jälkeen vielä päättää, onko henkilö syytä poistaa rekisteristä.
Tietosuojaan liittyvät kysymykset ja vastaukset
David Scott Lowe | CEO
---
Scott developed an appreciation for Eastern traditions during a high school exchange program in 1985. During his visit, Scott discovered the uniqueness of Japanese agriculture and, more importantly, tea. After graduating from Stanford University with a degree in International Relations, Scott returned to Japan to work for the Japanese government as an interpreter and international program coordinator. While there, Scott co-founded Pacific Intersect, Inc., a company specializing in planning custom business and government study trips. Over time, Pacific Intersect expanded its travel business and developed a branch focused on importing United States goods to Japan. He then founded David Rio with Rio Miura in 1996.. Scott is passionate about responsible business and is constantly leading the way in improving David Rio's products and minimizing our environmental impact. He cares deeply about the David Rio Team and is proud of the family-friendly office culture he established. Scott lives in San Francisco with his 4 children -2 girls and 2 boys.
Favorite Chai: Tiger Spice®
---
Rio H. Miura | Co-Founder
---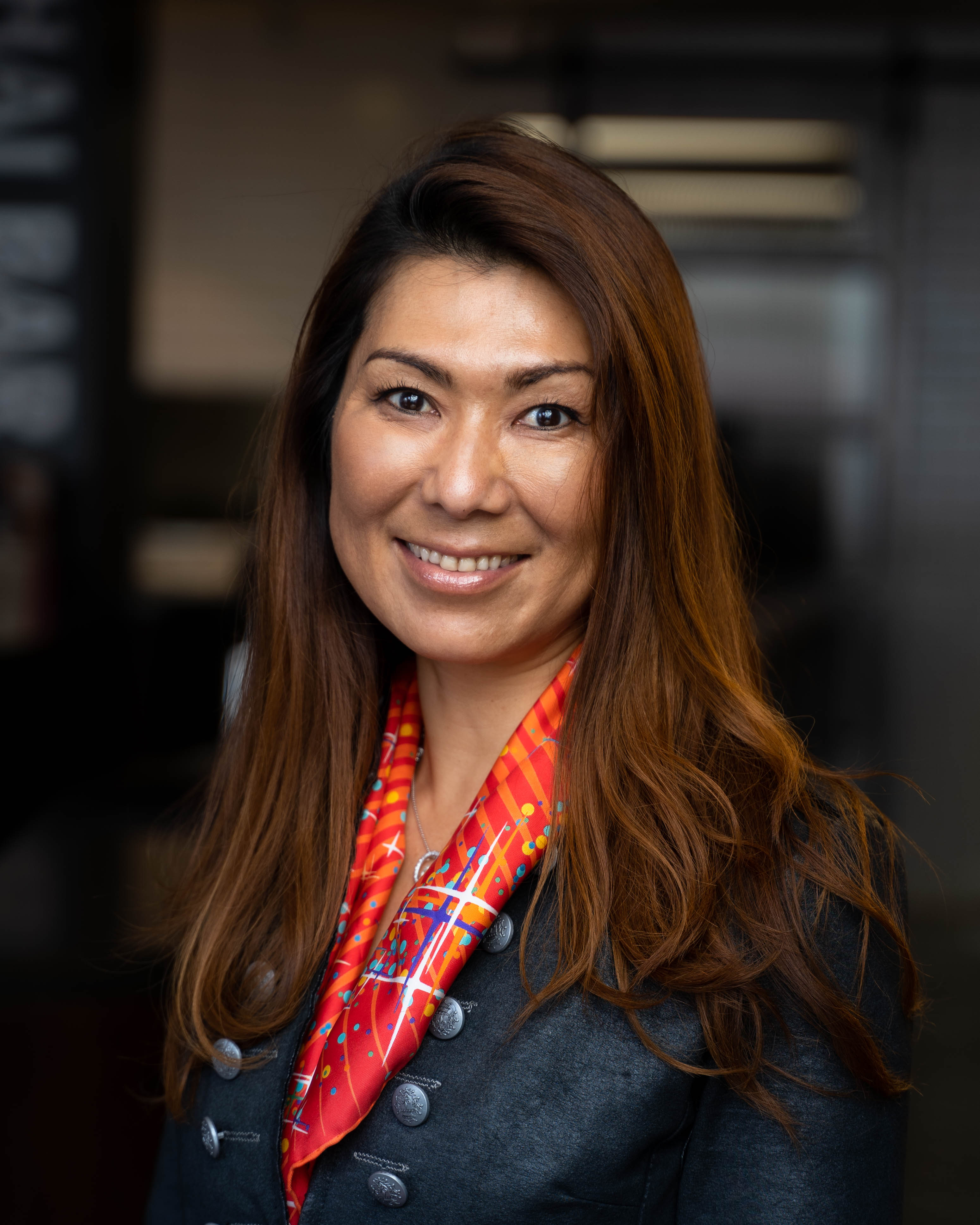 Born and raised in Miyazaki, Japan, Rio first came to the United States during a high school exchange program in Tacoma, Washington. Rio's interest in the family jewelry business combined with her artistic talent led her to pursue formal training in jewelry design. As the lead designer of a Miyazaki, Japan-based custom jewelry design business, Rio traveled around the world to places such as Paris, Hong Kong, Madrid, and Rome to exploring the international design market. Toward the end of her ten-year career in jewelry design, Rio spent time studying in the United States and researching the United States consumer market. She founded David Rio with David Scott Lowe in 1996. Rio is passionate about art and design and is responsible for the vision of the brand since its inception. Majority of the David Rio brand design is hand drawn by Rio and her inspiration comes from her environment and travel. She believes that every day is an exciting new beginning and an opportunity to make the world a better place. Rio is also responsible for initiating and cultivating the animal welfare culture at David Rio. Rio lives in San Francisco and has 4 children and a Dog named Juno who frequently visits the office.
Favorite Chai: Tiger Spice®
---
Ai Okubo | Chief Operating Officer
---
Ai was born in Japan, and spent her childhood between two worlds, in Tokyo, Japan and Portland, Oregon. Through this bi-cultural experience, Ai gained the appreciation of traditional food and beverage culture from Asia (including tea), and how the inspiration can transform when introduced into a western culture. After graduating from the University of Oregon with a degree in international business, Ai moved to the bay area, and joined David Rio in 2002 as the Customer Service and Operations Coordinator. Ai soon found passion in offering the best chai in the market to customers, and she became National Sales Manager in 2004. In 2005, Ai transitioned to Soma Beverage Company, a sister company of David Rio, as the International Sales & Operations Manager, where she gained expertise in production and quality assurance, as well as global sales and marketing initiatives. Ai returned to her roots at David Rio in 2008, and was later appointed Chief Operating Officer in 2015, overseeing the operations of the Company and its global markets in over 55 countries around the world. What Ai enjoys the most about David Rio is working with the people who believe in the brand and equally passionate about the animal welfare that has an impact to the environment today, as well as the future for the next generations to come. Today, Ai is a member of the Professional Business Woman of California (PBWC) and lives with her husband, Eric, and daughter, Emily (who came to work every day until she turned 1), in San Francisco. Ai enjoys growing organic vegetables and fruits in her garden, and playing bocce ball with family & friends in the backyard. Favorite Chai: Orca Spice Chai with almond milk, shot of espresso and boba prepared hot at David Rio Chai Bar.
---
Mboone Umbima | VP, Brand Strategy
---
Mboone Umbima enthusiastically heads the Brand Marketing Department at David Rio San Francisco and is also responsible for the David Rio's vast Corporate Social Responsibility efforts. She has given her life's blood for over 12 years, working with large corporations such as Compass Group, Bank of America, and Wachovia, as well as renowned nonprofit organizations such as Save the Children, where she helped to establish operations in Columbia, South Carolina. Mboone relocated to the fresh and airy San Francisco Bay Area in 2017 after a short stint in her native Kenya, where she headed the communications for Kenya's largest foundation, The Equity Group Foundation. While with the Foundation, she found her heartbeat again as she worked on socioeconomic transformational programs aimed at servicing the poor through education and financial inclusion. Prior to that, she worked with Compass Group building communications programs and strategies for several clients including Bank of America, BMW, Sprint and many more. During her time in Compass Group, she was so fancy that she chaired the Diversity and Inclusion Action Council where she helped establish a mentorship program aimed at creating mid management opportunities for minority employees with leadership aspirations. Mboone is so hospitable and inclusive that she received the Thompson Hospitality Leadership Award in 2014 for her work on Diversity and Inclusion. Mboone has served on several boards including The Women's Intercultural Exchange, Planned Parenthood of the Carolinas, Emkay East Africa, Mbaya & Associates(CPA), but she can't stop herself there, so she also volunteered with the SF-based Tiba Foundation, the National Kidney Foundation, The World YWCA, the YWCA of the Carolina's, United Nations, the Quaker Voluntary Service and many more. And what did you do today? Mboone is passionate about the impact of effective leadership. She cares deeply about Africa's Wildlife and man-oh-man does she love chai. She is also a mother of two 2 year old boys – and no they are not twins: Trevor is her human son and Ambo is an Elephant who was rescued from the Amboseli National Park in Kenya. Trevor lives with his parents in Castro Valley and Ambo lives in Nairobi, Kenya, at the David Sheldrick Wildlife Trust. She holds a Master of Science in Organizational Development and Communication and Bachelor of Science in Communications and Marketing. Favorite Chai: Power Chai
---
Kiyoe Nakazawa | Senior Director of Product Innovation
---
Kiyoe was born in the small village of Nagano, Japan, home to the world famous Snow Monkeys. Because her parents owned two Japanese restaurants, she was always interested in cooking and food culture, and enjoyed talking with customers. She was curious and creative and studied fashion and textile in college which came in very useful when she first started at David Rio. At the time, the fledgling company made everything in-house and Kiyoe put together banners and POS materials. Kiyoe always wanted to experience new cultures and life styles, so she began to study English at UC Extension in San Francisco where she met Rio, the co-founder of David Rio. She returned to Japan after living 1 -1/2 years in San Francisco to attend Culinary School to seriously study different cuisines and cooking. She received a chef's license in 1998 and volunteered as a chef at the Olympic Village during the 1998 Nagano Olympics. She enjoyed different environments and being able to speak English was very helpful. Kiyoe returned to San Francisco over 15 years ago and began working with Rio and Scott because she was enthusiastic about the passion for their business and products. Kiyoe has always enjoyed developing new products as well as improving existing products. Her standards are very high and she has continued to make operations more efficient by coordinating and meeting the deadlines for marketing and sales. David Rio has always promoted working mothers and their baby sitting needs. Kiyoe was able to bring her newborn son, Hiroki, to work after she returned from maternity leave. Hiroki "worked" and played at David Rio until he was one year old. He still enjoys visiting the office and Chai Bar, sampling the flavors and raw materials around his mother's desk. And he is very proud of the work his mother does for David Rio. Favorite Chai: C ub Chai Super Concentrate with 2% milk. She also liked Flamingo Vanilla Decaf Chai while she was pregnant.
---
David Ababseh | Director of Retail Operations
---
Coming soon!
---
Melanie Aquino | Senior Experiential Marketing Manager
---
Melannie is the pioneer of the freehand drawing latte art style. With only 3 known artists practicing freehand drawing latte art, Melannie's work has been featured on Vogue.com, GQitalia.com, Mashable, Huffington Post, and Refinery29. As the Senior Experiential Marketing Manager at David Rio, she is dedicated to spreading the word of chai through tastings, teaching latte art classes, attending trade shows and more. She is also a David Rio animal welfare ambassador and speaks about their work with the International Fund for Animal Welfare and the reasoning behind naming their chai after endangered, vulnerable and at risk species. You can find her on Instagram under @melaquino
---
---
Liitteet ja lisätiedot